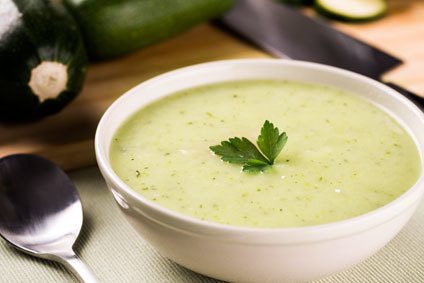 This zucchini cashew soup is from the  Ultimate Reset® meal plan and is definitely one of my FAVORITES!  I make it every now and then. It contains no dairy, it's creamy and delicious, I usually add some finely chopped dill before serving.
Total Time: 15 min., plus soaking time
Prep Time: 5 min.
Cooking Time: 10 min.
Yield: 1 serving
Ingredients:
1 oz. raw cashews (about 17 cashews)
1½ cups water, divided use
1½ medium zucchini, cut into chunks
Himalayan salt (or Bragg Liquid Aminos) (to taste; optional)
Herbal seasoning blend (or fresh herbs, like basil or dill) (to taste; optional)
Preparation:
1. Soak cashews in ½ cup water for 1 hour.
2. While cashews are soaking, bring 1 cup water to a boil in a small saucepan over medium heat. Add zucchini; cook for 4 to 5 minutes. Drain. Set aside.
3. Place cashews (with water), zucchini, salt (if desired), and seasoning blend (if desired) in a blender or food processor, in 2 or more batches if necessary; cover with lid and kitchen towel. Blend until smooth.
4. Heat soup, if desired, in a medium saucepan over medium heat; cook, stirring frequently, for 4 to 5 minutes or until hot. Do not boil.
5. Soup can also be served cold.
Nutritional Information: (per serving)
Calories: 213
Total Fat: 14 g
Saturated Fat: 3 g
Cholesterol: 0 mg
Sodium: 738 mg
Carbs: 18 g
Fiber: 4 g
Sugars: 9 g
Protein: 8 g