I love the flavor of chocolate hazelnut anything. And I have been trying to figure out a way to make snacks for my family that are healthier and also a bit more reasonable than some of the snacks and organic snack bars sold in stores. I wanted to make sure I had complete control of what goes into these snacks too. So I came up with this awesome recipe, low in sugar, made with wholesome ingredients and very easy to make. I am calling them "Veronica's Gluten-Free Chocolate Hazelnut Light-Bites" because they are light and delicious.
Ingredients:
1 cup hazelnuts
8 dates, pits removed
1/4 cup almond (or coconut) milk
1/4 cup cocoa powder
2 eggs
1 tsp vanilla
1 tsp cinnamon
1 cup oats
1/2 cup coconut flour
1/4 cup coconut sugar
1 tsp baking soda
1/4 cup chopped pecans
1/4 cup chocolate chips
2 tbsp (unsweetened) shredded coconut
Step 1
Pre-heat oven at 350 degrees. Place hazelnuts, pitted dates and almond milk in a powerful blender (or food processor) and pulse, making sure that everything is blended thoroughly. You may need to add a bit more of almond milk if necessary. If so, add little by little, until it's completely smooth and creamy and place in a bowl.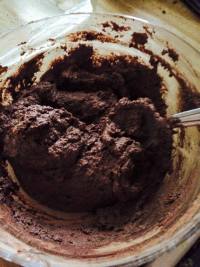 Step 2:
Add eggs, vanilla, cinnamon and oats and mix with a wooden spoon. Add coconut flour and coconut sugar. Baking soda, pecans and chocolate chips. Spray an 8″ square pyrex with oil. Add chocolate hazelnut mixture and press down with a wooden spoon. Sprinkle shredded coconut on top.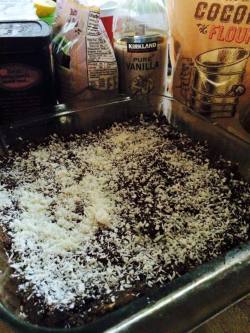 Bake for 20 minutes or until wooden toothpick inserted in the middle comes out with a few gooey crumbs. Allow to cool. Serve, and enjoy. This recipe is light, healthy, gluten-free and delicious!