A couple of weeks ago, I met with some fellow mommies here in my town. We were all discussing fashion trends among moms. What we like, what we dislike and what we'd never wear out in public. We live in a teeny, tiny little town and it was definitely a culture shock for me to move here from the big city back in 2009 and see a mom wearing pajamas and big furry slippers at 3:00 PM in the afternoon buying groceries. Don't get me wrong, I LOVE to be comfortable and trust me, there may be times when I'm tempted to go out in my PJ's, but this is something in my book that I won't do. The way I see it is that just because I'm a mom, doesn't mean I don't want to look at least a bit decent (especially for my hubby). So that being said, I chose to put together a "Top 10 Fall Fashion Trends for Busy Moms" list. To make it easier for us, busy moms, who want to still look decently dressed when out and about (and without breaking the bank). I have also posted links to the places where you can buy these looks to make it easier for you.
One of my FAVORITE stores of all time is H&M. Their quality and prices are pretty good. And I love their selection of big sweaters and cardigans. Here is one of my favorites: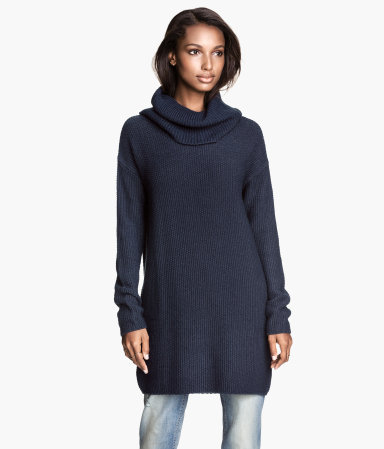 What I LOVE about it:
1- It's comfy
2- It's warm
3- You can dress it up with some leggings and some boots
4- Add some stylish earrings and you're set
5- You can wear this and still be out and about with your kids without feeling overly dressed but still look decent.
Click here for the link if you want to buy it online.
I don't know about you but I have a thing for boots. I LOVE them! However, I want them to be comfy too. As a mom, although I love to wear heels, I just am unable to for the most part, run around in them with a very active and fun little girl. So that being said, although I still keep some of my gorgeous heels, I now opt for wearing shoes that are a bit easier on my feet. I found these cute boots also on the H&M site.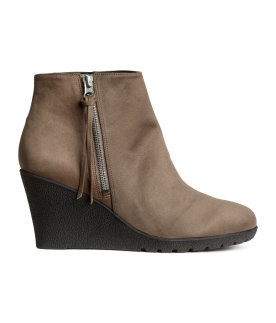 What I love about them:
1- The wedges!!! I LOVE wedges! They are much more comfy for my feet
2- Did I say they're comfy? Yes, yes they are 🙂
3- They're dressy. You can wear these with a nice pair of jeans and a dressy sweater and you're set!
Surprisingly, this pair of boots only comes in suede color. They do have other options for boots if you prefer a darker colored boot. If you like them however, click here.
The famous fitted blouse. We all must have on in our wardrobe. Why? Because it's SO versatile! You can wear it with a dressy skirt, some dark pants or even jeans. Add a scarf to dress it up. Or wear with a beautiful necklace. This is one of my favorite fitted shirts: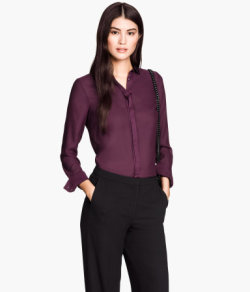 I prefer solid colors so picked this one for this blog post. What I love about it is the dark wine color. (Did anyone say wine?). Yes, that beautiful burgundy color is one of my favorites.
If you like patterns, they have a white shirt with dark stripes or a solid white one as well.
Click here for the link to purchase this shirt
Again, you can wear this with almost anything. A dark skirt. Dark pants. Jeans and a cute jacket.
If you like boots with heels, here's a gorgeous pair of boots that I also found on the H&M website: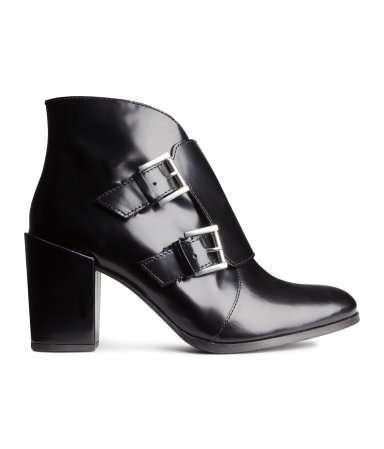 I don't know what it is, but I just love these boots! Again, trendy. And if you click on the picture,  it will take you to the link on the H&M website that shows the model wearing these boots with a dress and it actually looks good! I never thought that short boots and a dress would look good together but now I know.
If you like these boots, click here
Another one of my favorites for its simplicity: The sweater dress. And there are SO many styles to choose from. Check this one out from Chadwick's: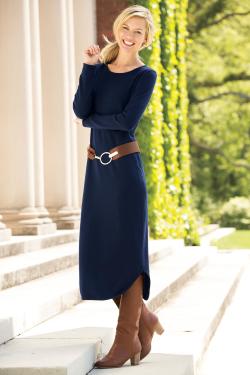 What I love about it:
1- How versatile it is.
2- It comes WITH the belt (which I think is gorgeous)
3- Wear with a scarf instead of the belt
4- Dress it up with a necklace
5- You can wear it with some knee-high boots
If you like this look, you can click here to buy it.
I keep talking about scarves but hadn't yet found something to show how you can dress something up by adding a scarf to the outfit. Take a look here. I LOVE how by simply adding a scarf to an outfit, you have a brand new look.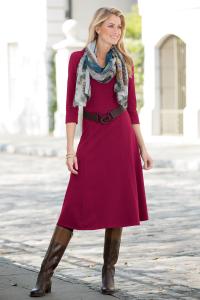 The dress pictured here doesn't come with the scarf or the belt, but it's a gorgeous dress regardless. It comes in two colors so check it out. If you like this dress, click here to purchase it.
What about workout clothes? Lately, I've been a HUGE fan of Fabletics! What I LOVE about them is how dressy they are. I needed new clothes desperately now that I'm training again and with a few inches lost here and there, nothing fits! So instead of spending hundreds of dollars in outfits that wear and tear easily, I decided to give Fabletics a try and see what their quality was like. Just note that they ARE a subscription type company. But if you want to put your outfit on hold on any month, you can do so, simply by going to the website and requesting that you "skip a month" or cancel altogether.
I haven't purchased this outfit yet but I truly, truly love it and keep looking at it. I love how I can wear this to pick up my daughter from school and then hit the gym afterwards without having to come home first and change.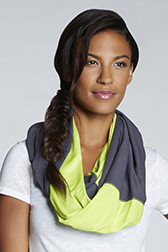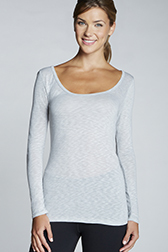 The t-shirt comes in several colors so you can pick and choose which color you prefer. Again, look at the simplicity. You can wear it with this outfit, or wear it with jeans or something else. I also love the scarf which matches the pants.
I have NOT been disappointed with the quality as of yet. I hope they continue to provide the excellent service and quality that they've provided so far. Their prices are reasonable too which helps too.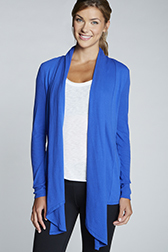 Here's one more Fabletics look that I also LOVE. Their 2 to 3 piece outfits seem to run between $49.99 to about $79.99. If you're a VIP (which I recommend), you get perks. For example, you can review the outfits you purchase and redeem points (for a brand new outfit once you accumulate 1000 points).
They have FUN fabrics and designs too (which might be dangerous for our wallet). One thing I do is reward myself with a brand new outfit on the months that I've hit a fitness milestone.