One of the great things about homeschooling my daughter, is that all our family activities can turn into an educational experience and since we believe in rewarding our child for their hard-earned work, we decided to surprise her by taking her to Sequoia National Park this weekend as a surprise. She loves nature and we knew that she'd be completely amazed with these giant sequoias! It was SO hard for me to keep it a secret but I truly, truly wanted her to be as amazed as I was the first time that I saw these giant trees. We thought about camping up there, but unfortunately, the weather was a bit too cold at night (in the 30's), and there was snow on some of the mountain tops too! So we booked our stay at the Montecito Sequoia Lodge.
My husband booked us a cabin through Expedia at Montecito Sequoia Lodge. Not knowing what to expect, we packed a ton of things. And since I'm in training and my meals are very specific, I packed my meals, which meant, cooking, measuring and packing them. I also packed several healthy snacks for my daughter, considering it's a little over a 5 hour road-trip from where we live. We left very early in the morning and thanks to our frequent stops to stretch, walk around and check things out, we got there 6 hours later. For us, it was perfect timing, because we couldn't check in until 4:00 PM anyway. This gave us plenty of time to look around the park and see my daughter's reaction when she saw the trees. On the way in, my husband asked her, as he pointed to one of the trees "Wow! Take a look at that tree. Do you think it's real?" To which she answered: "YES!! It's real! WOW!"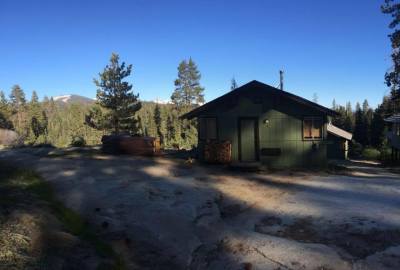 Montecito Sequoia Lodging is located 7,400 feet above sea level. Our awesome cabin had the most amazing views of the mountains. It came with a wood-burning stove, a space heater, a king sized bed and two bunk beds. The place was tidy and neat. We had an awesome private lake with paddle boards, canoes, kayaks, pedal boats, a slide and swimming (for the summer of course, unless you're brave or crazy). There's also a trampoline for the kids, tennis court, a seasonal pool and a spa tub. Indoor foosball and ping-pong tables, plus family games are also available in their family-dining room. I should also mention that ALL meals are provided at no extra cost. You get a buffet-style breakfast, lunch and dinner. Coffee, tea and drinks are available at all times and there's also a bar-lounge area. This is a smoke-free lodging which made our stay even more enjoyable. At night, they offered free s'mores and astronomy adding to the educational experience. It was an incredible place and I highly recommend it!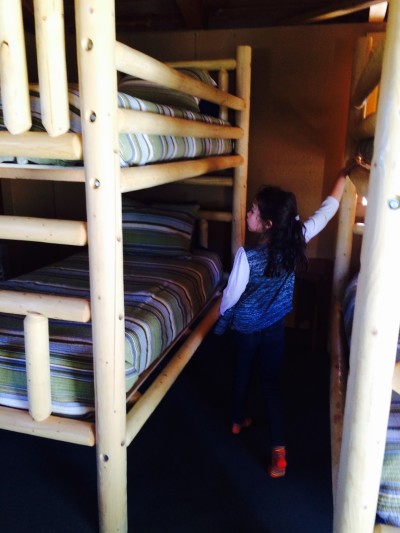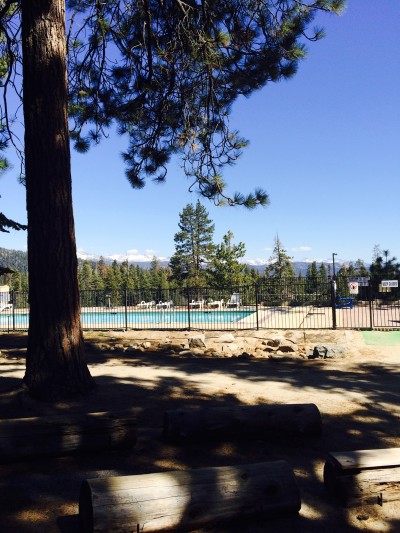 I will provide a few pros and cons:
PROS:
Beautiful scenery;
FREE crafts for the kids;
Playground on site;
They provided guided hiking tours during their seasonal adventure camps;
 Free WiFi;
Snack-bar/deli
Tennis court;
Outdoor seasonal swimming pool;
Outdoor spa-tub;
Private lake with canoes, paddle boards, pedal boats, kayaks (all inclusive with your stay);
ALL meals are provided (that's a huge savings!) and meals are pretty healthy too!
Very reasonable prices;
Firewood is provided;
FREE self-parking;
They offer 37 lodge rooms (besides their cabins), (open year-round);
Their Mountain View cabins offer a view of the Great Western Divide and include 1 king bed and 2 bunk beds and a wood-burning stove.
Their Forest Cabins are perfect for a family of four and include a private bathroom (open year-round);
Gift shop (if you just must shop for a souvenir); – Prices were reasonable there too.
There's babysitting available (surcharge)
Cribs/infant beds are available.
CONS:
Our Mountain View cabin had a wood burning stove. The stove didn't stay lit all night – so make sure you use the space heater (and check the weather to see how cold it will be at night. I may even bring an extra blanket next time if we go around this time of the year.) But remember that you have options if you don't want to stay at this cabin.
Their Mountain View Cabins do not offer a private bathroom. instead, they share a nearby bathhouse (separate for men and women, of course). We didn't mind this at all!
Considering how much this place has to offer and how TRULY reasonable it is for everything that they offer, it doesn't surprise me that "Good Morning America" ranked Montecito Sequoia as one of the top family camps in America.
Regardless of where you decide to stay, you shouldn't miss making a trip to this beautiful park. Check out some of our family pictures: