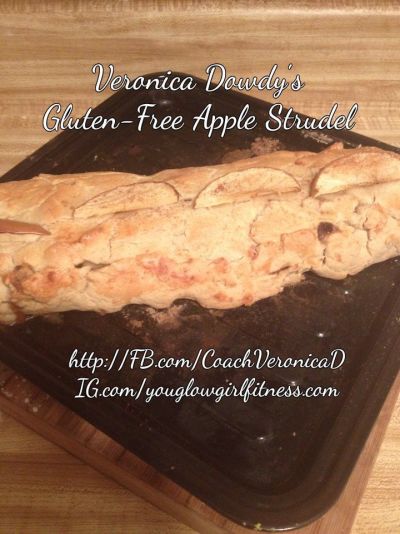 I LOVE apple strudel, but I know that it normally has a lot more sugar than I'd like and I've been focusing more on eating gluten-free foods and decided to recreate this as a gluten-free apple strudel.
I made this with my little girl. What's funny is that I tend to be a perfectionist and I want my baked goods not only to taste incredible, but also look incredible, which is kind of hard to do when your eager 6 year old tries to help. As a mom, I have learned that sometimes having fun is more important than being perfect. If I want my daughter to learn that cooking her own food is fun and can be healthy, we better do it while having fun!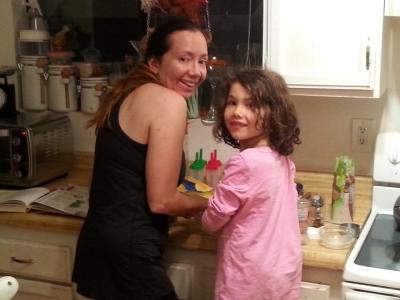 For the filling:
2 tbsp tapioca flour
1/4 cup water
1 1/2 pounds gala apples, peeled and sliced
1 teaspoon maple syrup
3/4 teaspoons ground cinnamon
1/4 cup raisins
For the Páte Brisée:
1 1/2 cup gluten-free all purpose flour (I used Bob's Red Mill)
1/4 tsp salt
1 tbsp coconut sugar
1/3 cup cold coconut oil (or organic butter)
6 tablespoons ice cold water
1 egg white beaten
1 tsp sugar (or coconut sugar with cinnamon which is what I used)
Preheat the oven to 375 degrees. Lightly coat a baking sheet with a bit of coconut oil and dust some gluten-free flour on it. Mix tapioca flour with 2 tbsp of water and set aside (I used tapioca flour also known as tapioca starch instead of cornstarch). Lightly coat a sauté pan with a tiny bit of coconut oil. Over medium heat, sauté the apples with 1 tsp of maple syrup, cinnamon and 2 tbsp of water. When apples are tender, stir in the raisins. Add the tapioca mixture to apples and add the rest of the water. Remove from heat and allow to cool. Make sure that the tapioca is not gooey but more like a thick sauce. If it IS gooey, then add a bit more water.
Place flour in a medium bowl. Add salt and sugar. Add butter (or coconut oil) and cut into flour using a pastry cutter until butter is the size of small peas. Add water, 1 tablespoon at a time, make sure you mix just a tiny bit after each tablespoon of water. The dough will begin to form a ball when you've added enough water. Gather dough with dry hands and form into an even ball. Let it rest for about 5 to 7 minutes.
Slightly dust a clean surface with flour and roll the dough into an 8″ x 12″ rectangle. Spoon filling about 1 inch from the edge and roll the dough and filling over itself. Seal the ends. Brush the top with the egg white, sprinkle the top with the cinnamon/coconut sugar mixture and transfer to a greased baking sheet (I also dusted that with flour so it wouldn't stick).
Bake in the preheated oven for about 30 minutes until the top is lightly browned. Remove from the oven and allow to cool. We let ours cool overnight and served it the next morning.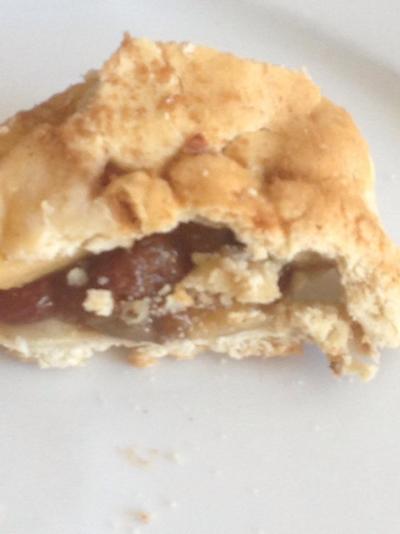 This version has a lot less sugar than the original one and it was sweet enough that you wouldn't miss the sugar in it. This made it a lot healthier.