About two weeks ago, I was contacted by Mr. Jonathan Heine via Linkedin. He asked if I'd be interested in trying their new healthy chocolate products. To be honest, at first, I replied no, because I knew nothing about the product and explained that I only offer my clients products that are made with "real" food. Mr. Heine was so patient with me, he replied back with information on the product, explaining that indeed, their chocolates are made with real whole foods. The best news is that their sugar content is insignificant (about 1/2 a gram of sugar or less). Concerned about artificial sweeteners, he explained that he has figured out a way to make them using a proprietary blend that includes monk fruit, giving the chocolate a sweet flavor without the added calories. Long story short, I accepted his invitation to try the chocolates and yesterday I received these yummy treats!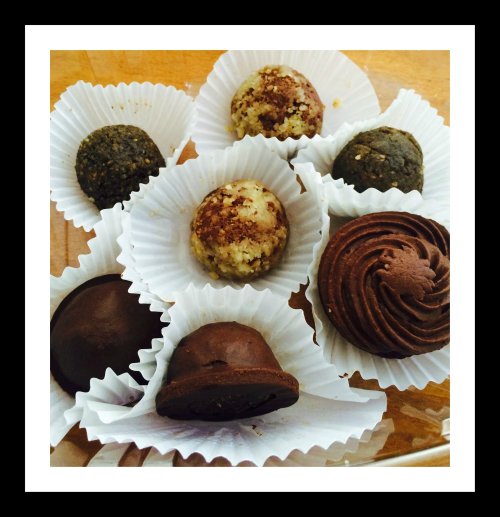 Here are some awesome facts about these chocolates:
♥ The chocolate fudge balls are 47 calories each and 1/3 gram of sugar and vegan.
♥ The chocolate cupcakes are 90 calories each and ½ gram of sugar (they contain egg).
♥ The chocolate protein bites are 75 calories each, ½ gram of sugar (vegan). The chocolate won't run or melt in a toaster oven, it just gets gooey. If heating them up, he explained, it is not recommended to add butter or vegan butter to it.
♥ The cinnamon almond bites are 55 calories each and 1/3 gram of sugar.
My 7 year old and my husband as usual are my taste-testers. They both tried some of the chocolates and loved them. My daughter said that the chocolate cupcake was "chocolatey" which trust me, is a GOOD thing. And my husband tried and enjoyed one of the protein bites.
The company is called "You Are Loved Foods." If you want to learn more about this product, click here to go to their website. Make sure to tell them that Veronica from You Glow Girl Fitness sent you.