I have an obsession with chocolate and avocado. I love them so much, that I think they should belong to a food group all by themselves. I had never considered mixing the two together until today when I read a recipe and it gave me an idea to use the two. However, since I'm all about eating healthy and feeding my family right, I figured that it was a great idea to create this recipe using my favorite chocolate meal replacement, which is why I call them "Chocolate Green Almond Fat Bombs". Now, I have to tell you that this recipe was SO good that it was hard for me to save a couple for the picture because both my husband and my 6 year old wanted to eat them.
So first things first! You'll need coconut butter for this recipe AND coconut oil. They are different from each other, so let me show you how to make coconut butter: 1 bag of Bob's Red Mill unsweetened shredded coconut Blend the contents of the bag in a food processor until it has a buttery consistency and set aside. It took me about 10 – 15 minutes just so you know.  By the way, coconut butter tastes REALLY good on some Ezekiel sprouted raisin cinnamon bread.  Here's a picture of what the butter looks like: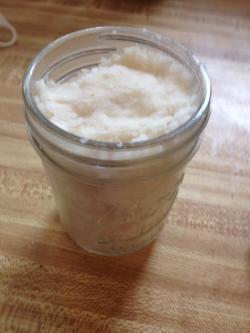 For the Chocolate Green Almond Bites you'll need the following: 1 small ripe avocado (about 1/4 cup avocado) 1 tsp almond extract 6 tbsp coconut butter 2 tbsp pure maple syrup Mash the avocado, place in a blender (or you can blend it with a Magic Bullet), add almond extract, coconut butter and maple syrup. Keep mixing or blending until completely smooth. Freeze for about 4 hours. Then scoop and form balls. For the chocolate shell you'll need: 1/2 scoop Raw cacao powder and 3 Tbsp coconut oil – melted
Dip the balls one by one and place on wax paper OR  you can use silicon cupcake molds. Freeze for another hour or so and enjoy! (Remember that this is a treat and you should practice portion control with it. I only recommend having 1 to 2 maximum).